Bali is a lovely Indonesian island famed for its beaches and resorts. If you're looking for a hotel with a waterpark, you have a variety of options.
Some of the best hotels in Bali with these amenities have excellent reviews and provide a choice of activities for guests.
Waterparks are an excellent method to keep children occupied while they are on vacation.
It is critical to analyze the pricing and features of a hotel with a waterpark. Some hotels demand a price to use it, and this article will inform you which ones.
Whether you want to save money or splurge on a luxurious resort, there's bound to be a hotel on this list that's ideal for you.
1. Hard Rock Hotel Bali
Location: Jl. Pantai, Banjar Pande Mas, Kuta 80361 Indonesia
Starting Rate: $104/ night
The Hard Rock Hotel Bali is a testament to the dynamic spirit and the creation of locations where anything is possible. You may spend a full weekend lounging by the pool in the afternoons and going on club crawls in the evenings.
You can also participate in outdoor activities for the entire family as well as kid-only organizations. It offers an all-inclusive holiday that you will remember for the rest of your life. Enjoy their spa services. You are present wherever you go.
It is recognized as Bali's most important free-form swimming place. It is a sunbathing oasis with a distinct Sand Island that may also be used as a stage for outdoor activities.
At the poolside, there are 22 cabanas that will give you with a pleasant, quiet escape. Guests can also order food and drinks from the Splash Bistro menu.
You may relax and enjoy the quiet and luxury of having a pool on your ground-floor balcony. This "chill out" pool is available to Premium Wings guests and provides an excellent escape from the hustle and bustle of the city. The much-loved family pool with tons of fun for children! It is located at the Main Pool, and Kidsthe  Waterpark features slides, a water bucket, and a variety of water sports that will delight the youngsters!
Use one of their facilities to enjoy extra fun in the water!
Single Tube: $6 net/day (Available from 9 am to 5 pm)
Double Tube: $10 net/day (Available from 9 am to 5 pm)
Giant Ball: $7 net/per pax (Available from 2:30 to 4 pm)
Must-try Restaurants Nearby:
Little Italy [Italian]

Nebula [Contemporary]

Piccola Italia Kuta [Italian]

 
2. Grand Mirage Resort
Location: Jl. Pratama No 74, Tanjung Benoa 80363 Nusa Dua – Bali, Indonesia
Starting Rate: $116/ night
Grand Mirage Resort strives to create unique experiences for island visitors looking for fun and leisure.
Grand Mirage Resort has a variety of sports and recreation activities such as beach volleyball, pool, water sports, yoga, and many more. They had been meticulously prepared to generate lifelong memories.
You may make the most of your trip by enjoying beach volleyball, which is both enjoyable and healthful. You can also relax in their pool with a water slide in their family paradise.
The Grand Mirage Bali Resort has a little water park for children, slides in the indoor pool playground, a kids' club, an E-Lounge, and a foam party. The friendly Mirage activity team organizes a variety of activities for youngsters to help them develop their creative skills.
If you're feeling daring, motorized water sports are included in their "Gold All Inclusive" package with a minimum stay of 6 nights. You can participate in any water sport, such as speed boating, banana boating, or jet skiing.
Try their Bali Sea walker to explore the amazing underwater environment! You can participate in an underwater picture shoot here. We recommend booking this a month before your check-in date to take advantage of their early bird price.

Sea Walker Rates:
$75/ adult (13-80y/o)

$60/ child (8-12y/o)
Internet Special Price:
Early Bird special:
Must-try Restaurants Nearby:
Sukun Restaurant [Asian]

Bumba Bali 1 [Indonesia]

Glaze Bali [European]

Tropical Tanjung [Indonesian]
3. Cross Bali Breakers
Location: Jl. Pantai Balangan No. 10, Jimbaran 80361 Indonesia
Starting Rate: $156/ night
Cross Bali Breakers, with its surf-inspired appearance, is located in the popular but calm southern part of Bali, with green regions ideal for jogging or cycling. The resort is within a 5-minute bike ride from the well-known Balangan Surf Beach.

After a long day of visiting the island, relax in your private pool and let the highly qualified spa professionals reenergize your body. Relax in the towering Hang Loose Bar or have a fantastic dining experience at Point Break.

The main pool contains a swim-up bar and a sunken bar. The roof lounge allows you to enjoy the sun and breathtaking views. The adults-only calm one is quiet and excellent for relaxing.
The Sunken Pool Bar, which is carved out of the resort's main pool, is also a terrific location to relax. While unwinding in this casual social setting, you can enjoy fruit juices, mocktails, cocktails, and high-quality meals. If you are on a business or vacation trip, this resort with 58 exquisite private luxury villas awaits your arrival.
The villas are intended to meet all of your needs. Each huge house features luxurious facilities as well as a private pool with an outdoor terrace.
Must-try Nearby Restaurants:
Café La Pasion [Mexican]

UNIQUE Rooftop Bar & Restaurant [Mexican]

To'Ge [International]
4. Bali Dynasty Resort Hotel


Location: Jl. Kartika Plaza, Kuta 80361 Indonesia
Starting Rate: $91/ night
The Bali Dynasty Resort Hotel is a premier beachside resort located in South Kuta, Bali. It is an all-inclusive resort with 6 restaurants, 5 bars, and 4 pools.
It has an extra children's pool with the Kids Water Fun Zone, a Giant Waterslide, an adults-only pool, a magnificent spa, and a beach area.
They also include adolescent clubs and a playground for children. The unusual design allows for a beautiful but functional separation of families, couples, or households. Families can enjoy the 56-meter water slide that feeds into the separate kids' water park, as well as the trendy free admission to The Enchanted Garden Kid's Club and The Den Teens Club for teens aged 10 to 16.
For the younger children, there is also a Kids' Playground. A variety of accommodations that may accommodate up to six guests are also available for the family market.
Furthermore, the trendy Kids Eat is FREE for children aged 12 and younger. It is complimentary with the same number of fully-paid adults dining at the H2O Restaurant's rotating Everyday Theme Buffet Dinner. From 9 a.m. to 6 p.m., their weekly resort program for children, teenagers, teens, and adults will keep families engaged all day.
Couples can enjoy the famed Gracie Kelly's Irish Pub, the adult-only Lazy Pool, the five bars and six restaurants Ashoka Luxury Spa, and, of course, the well-known Kuta Beach area.
During your stay, you will have access to free daily activities for both adults and children. Kids Yoga, Duck Feeding, Art Workshop, Indonesian lesson, Bali Cooking Demo, Water Volleyball, Treasure Hunt Bingo, Frog Race, and a variety of other activities are available. 
Must-try Nearby Restaurants: 
Sukun Restaurant Kuta [Indonesian]

Johnny Tacos [Bar]

Shinta Warung [International]
5. Prime Plaza Suites Sanur – Bali
Location: Jalan By Pass Ngurah Rai 83, Sanur, Denpasar 80228 Indonesia
Starting Rate: $36/ night
Prime Plaza Suites Sanur is the ideal Bali hotel for groups of friends, small or large families, and long-term visitors. They contain up to 165sqm of living space, including a fully equipped kitchen, dining area, and large living room.
The Suites are a terrific alternative to traditional hotel accommodations because they can accommodate up to 6 people while maintaining privacy and personal space. Parents can unwind with a spa treatment or a drink by the pool. The mix of sunny skies, courteous service, and a relaxed atmosphere makes this hotel the ideal starting point for a family trip.
With its distinctive features, including the award-winning Camp Splash! Fun Park, the Suites provide a fantastic holiday for children.
Inside their own wonderful Fun Park, Camp Splash has everything that makes youngsters grin. It provides parents with a brief opportunity to unwind and relax. The kids will have a blast in this fantastic adventure environment.
Children will be busy making new friends, playing games, watching movies, or even creating teams to play water valley balls with our pool guys. They will also be entertained on a regular basis by their professional staff, who are, in their own words, "kids at heart."
Must-try Nearby Restaurants:
Warung Old Brick [International]

Bali Bon Bon [Deli]

Kopi Bali House [Café]
6. Villa Berawa
Location: Jl. Pantai Berawa, Gg. Sri Kahyangan Br. Berawa, Canggu 80361 Indonesia
Starting Rate: $106/ night
Bedroom Pool Villas in a typical Javanese design are available at Villa Berawa. It has a lovely Pendopo area, the traditional outdoor eating and sitting area great for gathering with the entire family. Berawa Beach, one of the most sought-after beaches for professional surfers, is only a 7-minute walk from Villa Berawa.
They provide affordable semi-private surf lessons. Each surf instructor has two students of the same surf level. Private classes can also be arranged dependent on wind and swell conditions, as well as the level of surfing experience of our guests.
Every surf session includes pick-up and drop-off at the villa, two hours of ocean practice with the instructor, and surfing equipment, which includes a Lycra suit and a surfboard.
Following the course, you will be able to acquire a photograph from a professional photographer. If you enjoy surfing, Villa Berawa is a great option; otherwise, I recommend checking out the other options indicated above.
Must-try Nearby Restaurants:
Sushi Bar Bali [Japanese]

St Tropez [French]

Finns VIP Beach Club [International]
7. Bhavana Private Villas
Location: Jalan Pangkung Sari, Banjar Taman, Seminyak 80361 Indonesia
Starting Rate: $195/ night
The exquisite Bhavana Bali has 16 magnificent private villas situated in lovely garden walls. Each features a private pool, a semi-outdoor lounge area, a well-equipped kitchenette with eating space, and air-conditioned bedrooms.
The villas are furnished and decorated with indigenous wood tiles, fabrics, and other artifacts, all with a modern minimalist edge. Their style is representative of traditional Java and Bali dwellings, making them an excellent choice for a more folkloristic experience.
Their special package also includes a Floating Breakfast/Meal & Swimming Package, which I highly recommend you experience if you get the chance.
The villas are in the heart of fashionable Seminyak. The Bhavana Private Villas are within a few minutes' walk from Seminyak beach, which features magnificent sunsets that can be enjoyed from beach-side restaurants or bars.
Must-try Nearby Restaurants:
Boy'N'Cow [Diner]

TEMPTED Restaurant & Lounge [Italian]

Sangsaka Restaurant [Asian]
8. Amar Boutique Hotel
Location: Jl. Munduk Kedungu No.11 Banjar Pengembungan, Pererenan Canggu, Mengwi 80361
Starting Rate: $175/ night
Amar Beach Boutique Hotel is a family-owned project in which every detail has been meticulously planned.
The Amar Beach Boutique Hotel is a representation of the nature and beauty of Indonesian materials, inspired by the surroundings and traditional Balinese culture. It's even more typical because they're made by hand by local artisans.
Amar is situated south of Echo Beach, the most well-known surf spot in Canggu West. It is bordered on the west by rice fields and on the north by the most famous volcanoes, Agung and Batur.
This means that you can be charmed by both the ocean breeze and the strength of the volcanoes. They also provide pool suites on the lower level to enhance your experience.
Even though the one ocean apartment on the first floor is one of my favorites, the balcony with direct access to the common pool provides a beautiful view. The huge windows and glass doors facing the water on the south side contribute to the ideal view of the Echo Beach sunset.
One of their greatest attractions is La Brisa Bali, a beach club built with salvaged wood from over 500-year-old fishing vessels and artistically painted.
Must-try Restaurants Nearby:
Beach garden – Organic Kitchen [Healthy]

Boheme Restaurant [American]

LaBrisa [International]
9. Padma Resort Legian


Location: Jl. Padma No. 1 Legian – Bali 80361 Indonesia
Starting Rate: $177/ night 
Padma Resort Legian is only one block from the beach and close to the airport. The Padma has plenty of beach, sun, and sand. The area is designed with five separate pools, and you may have a great time jumping from one to the next!
This lovely resort appears to be surrounded by vegetation, which is wonderful for children to play in and for enjoying a stroll in the natural world after breakfast! It's a great place for families to unwind, and the pool with the lagoon is fantastic for retreating to a tropical oasis!
The family pool is the focus of the children's interest, with a variety of slides and a colorful mushroom fountain to keep them occupied for hours! If you're older and want to avoid the chaos that youngsters cause, the adults-only pool is a great place to watch the sunset.

Sip one of Padma's enormous martinis beside the pool bar while the sun sets, creating a shimmering sea all around you!
Must-try Nearby Restaurants: 
Sinaloa [Mexican]

Azul Beach Club [Bar]

Summer Queen Bali [Fusion]
10. Sanur Residence
Location: Jalan Padang Galak 71, Kesiman, Sanur, Denpasar 80237 Indonesia
Starting Rate: $201/ night
Sanur Residence is comprised of three massive, independent, double-story residences, each built to maximize ocean views from their living spaces and rooftop patios.
The three villas are all the same size. Each has its own distinct features, such as an entertainment area in the third and a massive dining room/meeting space at the bottom of the first. The expansive and serene grounds are a step down to the coast, separated from the home by corn fields. A raised path leads to the beach via the manicured grounds, past the fishing pond and relaxation bales.
The 23-meter pool is located in the midst of the gardens, beneath two magnificent lakes, and has a deck with shaded sun loungers. Sanur Residence is a fantastic option for families. The expansive gardens, fishing pond, enormous swimming pool, and media rooms equipped with children's movies are sure to please.
It is only two steps from the beach, which is ideal for sandcastles and walking. Families with young children, on the other hand, should exercise caution around the different water features on the villa grounds. The kind personnel will make children feel as welcome as adults. Having friendly staff members on hand allows guests a lot of flexibility and freedom to explore beyond the property. Full-time babysitting is an additional cost, but it's nice to know that it's included in the package.
Must-try Nearby Restaurants:
Ulam Ayu Sanur [Sanur]

Warung Pak Ada (Sop Kepala Ikan) [Indonesian]

Warung Pencar Bali [Indonesian]
11. FuramaXclusive Ocean Beach Seminyak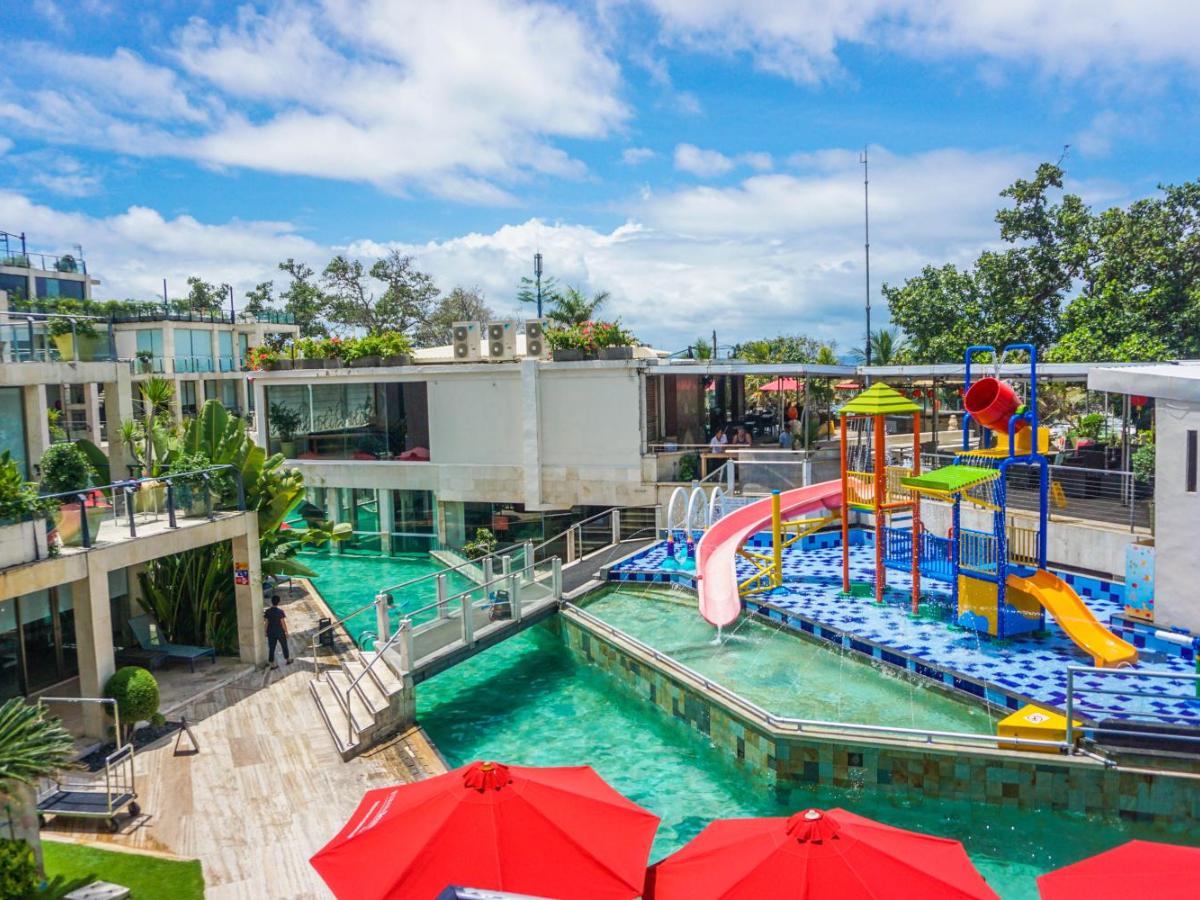 Location: JI Arjuna 88X Legian, Kuta, Bali 80361 Indonesia
Starting Rate: $71/ night
FuramaXclusive Ocean Beach Bali has beautifully designed deluxe rooms and trendy split-level penthouses with big private balconies. FuramaXclusive Ocean Beach Seminyak allows you to enjoy yourself in this beachy town that is a family-friendly paradise unlike any other!
If you're tired, the expansive waterpark will keep your youngsters entertained. It's embellished with multi-colored slides, limitless play spaces, and a constant flow of waterfalls, making it a true child's paradise. It is adjacent to Double Six Beach, which is often crowded but suitable for families. If you get hungry, you may always check out some of the eateries listed below.
Must-try Nearby Restaurants:
The Coffee Club-Legian [European]

The Plantation Grill [Steakhouse]

Opeum [International]
12. Bali Mandira Beach Resort & Spa
Location: Jl. Padma No.2, Legian 80361 Indonesia
Starting Rate: $116/ night
The Bali Mandira Beach Resort & Spa has a variety of amenities. The key word here is lavish pools, which feature an infinity pool with a panoramic view of the ocean and a pool with exciting slides designed for both children and adults.
Movies and Balinese dancing classes are among the fun activities available at the free children's clubs. There's also a free craft class if you want to learn something new and more traditional.
The lovely Balinese-styled deluxe cottages are similarly stunning, with exceptional family rooms that are ideal for families. You'll love staying here, with interconnected rooms that provide the kids enough independence while giving the parents enough privacy.
Must-try Nearby Restaurants:
S.K.A.I Beach Club [Pizza, Bar, International]

On the Juice [Bar, Healthy]

Makan Place [American, European, Asian, Australian, Indonesian]