Bali is a popular location for tourists from all over the world. Bali is certainly a worthwhile destination for individuals of all ages and various interests, thanks to its magnificent beaches, breathtaking sunsets, and rich and unique culture.
With all of the fun and interesting activities available on the island, a journey to this tropical paradise would be incomplete without a suitable spot to stay, rest, and relax. Not to worry! This article will show you the greatest Bali hotels with pools for total relaxation.
Hotels with Pools in Bali for an Ultimate Stay
If you're seeking a convenient spot to rest after a long, adventurous day, the island has many budget-friendly and magnificent villas. Some of these hotels and private villas include private pools to ensure a peaceful and wonderful stay for their visitors.
Without further ado, here are the best Bali hotels and villas with pools for the relaxation and calm you want throughout your stay.
1. The Seminyak Beach Resort and Spa
If you're looking for a comfortable hotel worth staying at, the Seminyak Beach Resort & Spa is a good choice. As indicated by the good reviews offered by its recent guests, this hotel will provide you with the greatest rest. This beachfront resort has an infinity pool facing the ocean and a tranquil sunset lounge.
This hotel is the place to be if you want to experience tropical sophistication, thanks to its stylish yet cozy rooms, suites, and villas that respond to the needs of travelers.
Essential Hotel Amenities
Own private pool
Free private parking
On-site spa & wellness center
Airport shuttle
Free internet access
Bar & sun loungers
2. Anantara Uluwatu Bali Resort
It's no surprise that Anantara Bali Resort is Uluwatu's most popular location, given its outstanding hotel accommodations. One of the resort's highlights that guests adore is their outdoor swimming pool with a wonderful ocean view.
One of Bali's luxury suites, Anantara Uluwatu Bali Resort, is built on a cliffside overlooking the Indian Ocean. The outstanding architecture of the balconies provides a panoramic view from every point. It has 73 apartments and private pool villas for an unforgettable visit.
Essential Hotel Amenities
Outdoor pool with ocean scenery
Spa & fitness center
Free wi-fi
Free parking
Billiards
Poolside bar
3. Ayana Resort and Spa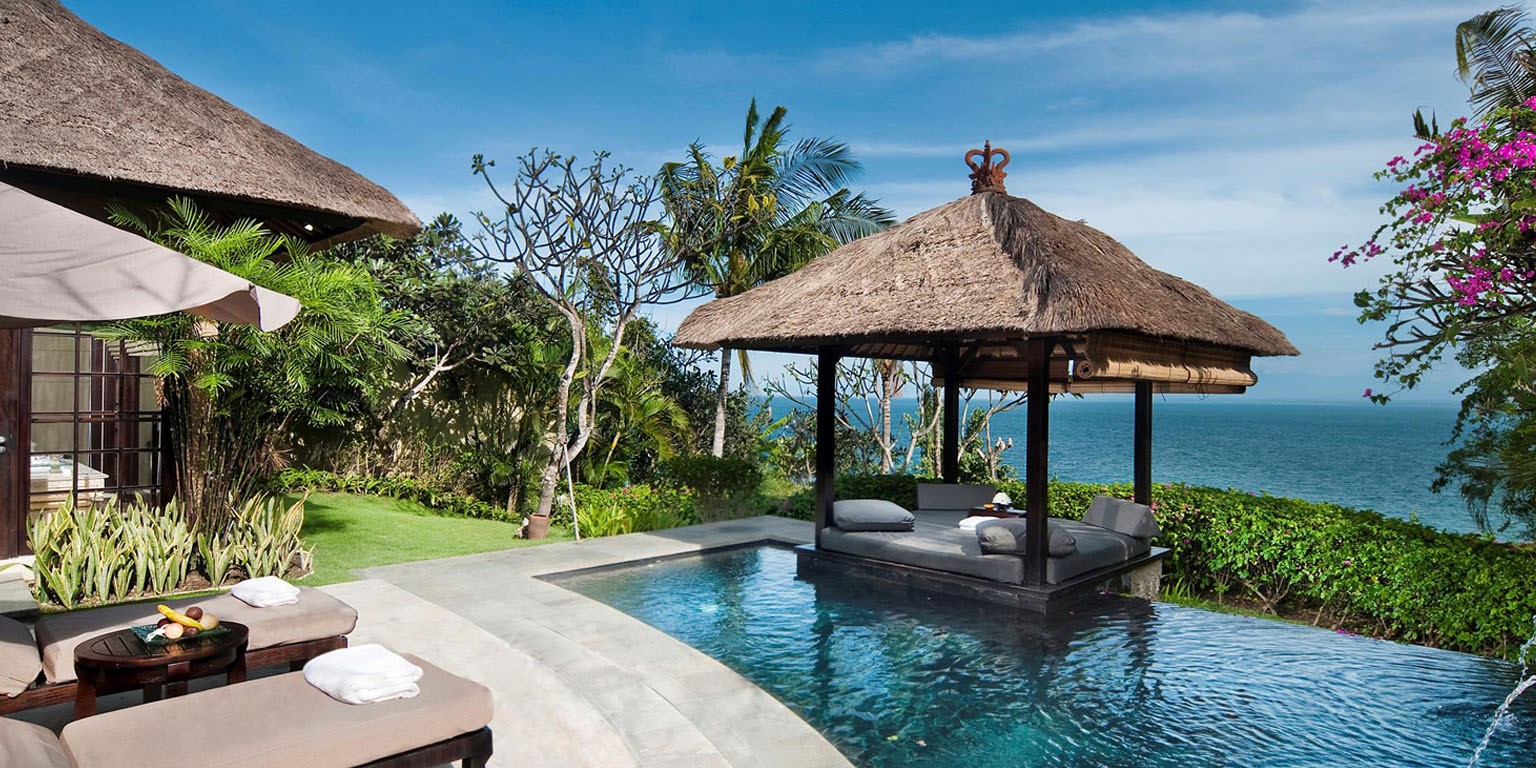 If you're seeking for a location to stay in Bali that offers world-class relaxation, Ayana Resort and Spa is the place to be. It is on 90 hectares of cliff-top tropical gardens with views of Jimbaran Bay. This resort hotel is well-known for its 12 swimming pools as well as its 19 restaurants and bars.
The luxury accommodations at Ayana Resort and Spa provide views of Bali's majestic sunsets and Jimbaran Bay's gorgeous white-sand beaches. Aside from the stunning ocean-viewing rooftop pool, Ayana guests have access to a variety of eating options and recreational activities.
Essential Hotel Amenities
On-site tennis courts
Spa & fitness centres
Bicycle rentals
Golf course
Bars & lounges
Free internet
4. Aksari Villa Seminyak
Aksari Villa is an excellent choice for couples seeking a romantic holiday. This five-star hotel provides private pool villas for refreshment and leisure. Discover the unique cultures and magnificent natural scenery of Seminyak, Bali, at Aksari Villa.
You can reserve one luxurious bedroom with a private pool and Jacuzzi, which is great for honeymooners. A trip to Aksari Villa would also be incomplete if you did not visit the resort's many excellent restaurants and shopping centers.
Essential Hotel Amenities
Spa & wellness centre
Own private pool
Pet-friendly facilities
Free access to the internet
Free breakfast
24-hour security
5. Shore Amora Canggu
The Shore Amora Canggu is a private pool villa with a tranquil view of the rice fields. This edgy lifestyle resort is surrounded by vegetation and is perfect for poolside relaxation. Further investigation will lead you to some of the top eateries and bicycle rentals in the area.
Shore Amora Canggu is without a doubt one of the top private pool hotels in Bali. The luxury villa is well-known for its stunning plunge pool and private balcony, where you can relax and unwind in complete privacy. There are also lavish rooms with huge windows, bathrooms, and minibars in the house.
Essential Hotel Amenities
Relaxing infinity pool
Shore top lounge
Spa & wellness packages
Free private parking
Free shuttle service
Meeting rooms
6. The Menjangan
The Menjangan is a peaceful refuge that offers a one-of-a-kind opportunity to discover the natural treasures of West Bali National Park. The cozy accommodations with a beachfront view at the resort certainly provide an exquisite experience unlike any other. You can relax by the private swimming pool, go horseback riding, kayaking, or dive and snorkel in one of Bali's most spectacular coral reefs, to name a few activities.
These hotel activities will enhance your wonderful Bali stay in addition to giving ultimate relaxation.

Essential Hotel Amenities
Private swimming pool
Bicycle rental
Family-friendly activities
Free access to the internet
Free parking
Spa & full body massage
7. Bisma Eight
Bisma Eight is one of the greatest hotels in Bali for excellent rest and relaxation if you haven't decided on a location to stay yet. Don't miss out on a natural and cultural Bali experience at this hotel in Ubud's core. Bisma Eight, with 38 suites that combine modern style and traditional Balinese artwork, brings something unique to the environment of central Bali.
They have contemporary rooms that include a traditional Japanese bathtub. There is also a temperature-controlled outdoor pool.
Essential Hotel Amenities
Outdoor temperature-controlled pool
Fitness center
Free wifi
Children's TV networks
Bicycle rental
Free parking
With so many interesting activities on offer in Bali, travelers need a comfortable and pleasant hotel to unwind at the end of the day. There's no need to stress about where to stay! Bali greets you with a variety of private pool villas for unforgettable leisure.
Make the most of your time in Bali by staying at one of these top Bali hotels with pools! Don't pass up the opportunity to unwind with some thrilling activities.
Read More: Why Bali holidays is the Ultimate Escape When Travel Resumes. Here's 7 Reasons Why