Bali is one of the world's most popular tourist destinations for a reason. An exquisite paradise is created by endless beaches, lush green jungles, and towering volcanoes.
With some of the best food on the planet and incredible nightlife, it's no surprise that visitors return to Bali year after year.
If you want to pamper yourself on your next holiday, these are the best 6-star hotels in Bali for ultra-luxurious lodgings.
There's something here for everyone, whether you want a quiet hideaway or to be right in the center of all the activity.
Amandari Kedewatan, Ubud, Bali
Starting Price: $980/night
First, we'll look into the famous Amandari here located in Ubud. Consider it a spot where you can get away from the hustle and bustle of everyday life in Bali while still feeling pampered. A hotel is so magnificent that it will steal your breath away.
We've reviewed a lot of hotels and we can honestly say that Amandari is one of the best. Amandari is unlike any other hotel you've ever stayed at. It's opulent without being stuffy. It's both calming and entertaining. It's gorgeous and tidy, but it also feels like home.
Whatever mood you're in when you arrive, whether you want to spend a day lazing by the pool or working in your room, Amandari has something for you. As you approach the resort, you will notice that it has different pavilions that blend in with the gorgeous surroundings.
They provide complete seclusion while you relax by their private pool or enjoy views of Batukaru Peak from their balcony. You can eat in one of their open-air pavilions or relax in their glass-walled living area while watching the sunset over the Java Sea from your suite.
Whether you spend the majority of your time here or walk outside the hotel to explore Bali Sea temples, you will have a great time here. You could also explore other tourist attractions in the area while you're there. You might go rafting, see the renowned Bali swing, or visit The Garden Ubud near the monkey forest.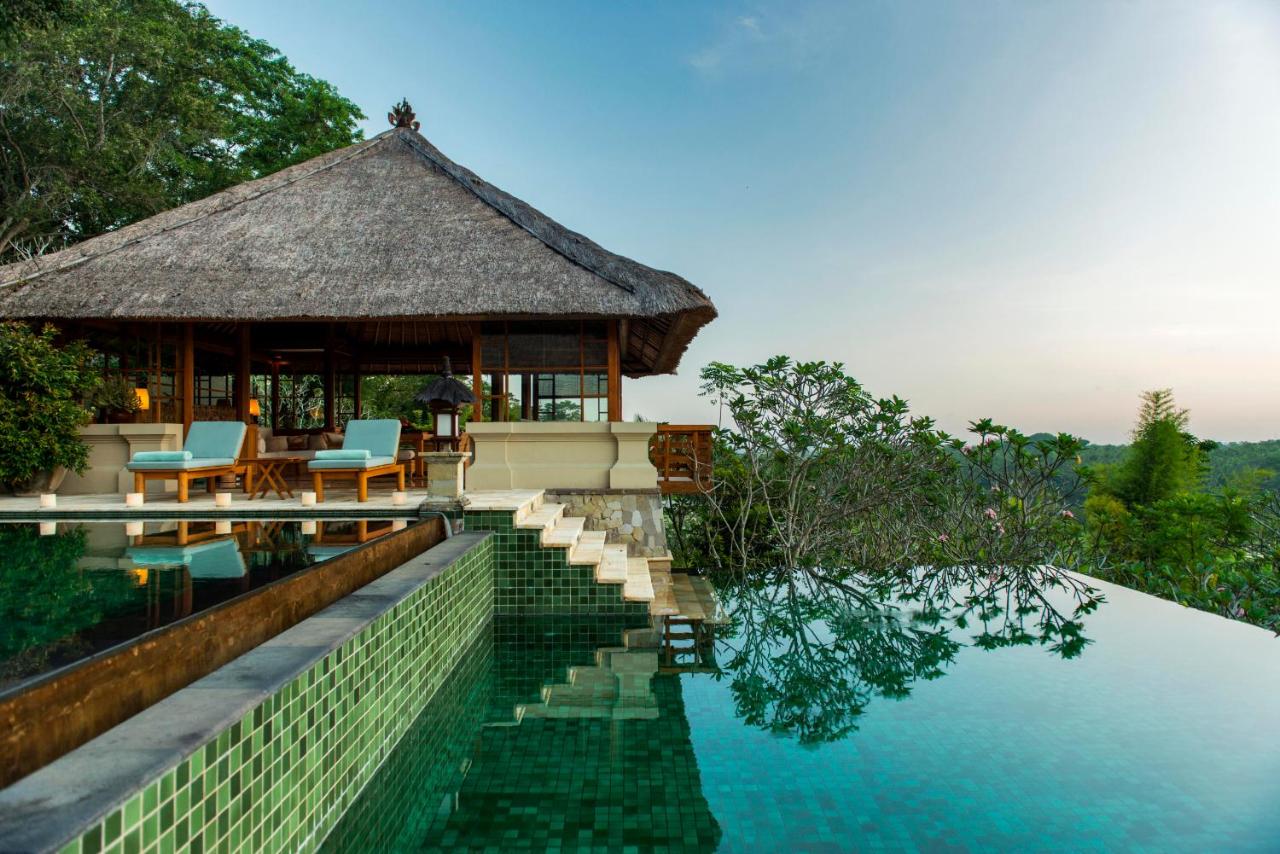 2. Anantara Seminyak Bali Resort
Jl. Abimanyu (Dhyana Pura), Seminyak, Badung Regency, Bali, Indonesia 80361.
Rates begin at $320 per night.
Second, on the list, we have The Anantara Seminyak Resort, a hidden treasure in the heart of Bali's bustling tourist district. It's calm and pleasant here, with an excellent spa program.
If you dislike major cities, this location will be ideal for you. The lobby is our favorite part of this hotel. It's open air, with chairs next to the water where you can sit and watch the Indian Ocean flow by. You can hear the peaceful sound of water flowing in from the ocean from your accommodation, making things feel more comfortable.
The 6-story architecture is loaded with water components that bring the outside in, so you feel like you're on vacation on a secluded island far away from home even while you're inside your room.
It's like walking into a home you've never seen before when you first enter this motel.
You would imagine a modern, contemporary environment; instead, you'll be surrounded by antique marble flooring and carved oak walls. There are lush plants around, and the atmosphere is serene. The staff is warm and welcoming. They make certain that you are at ease in your surroundings. They are dedicated to delivering a wonderful and peaceful experience for you to enjoy while you are here.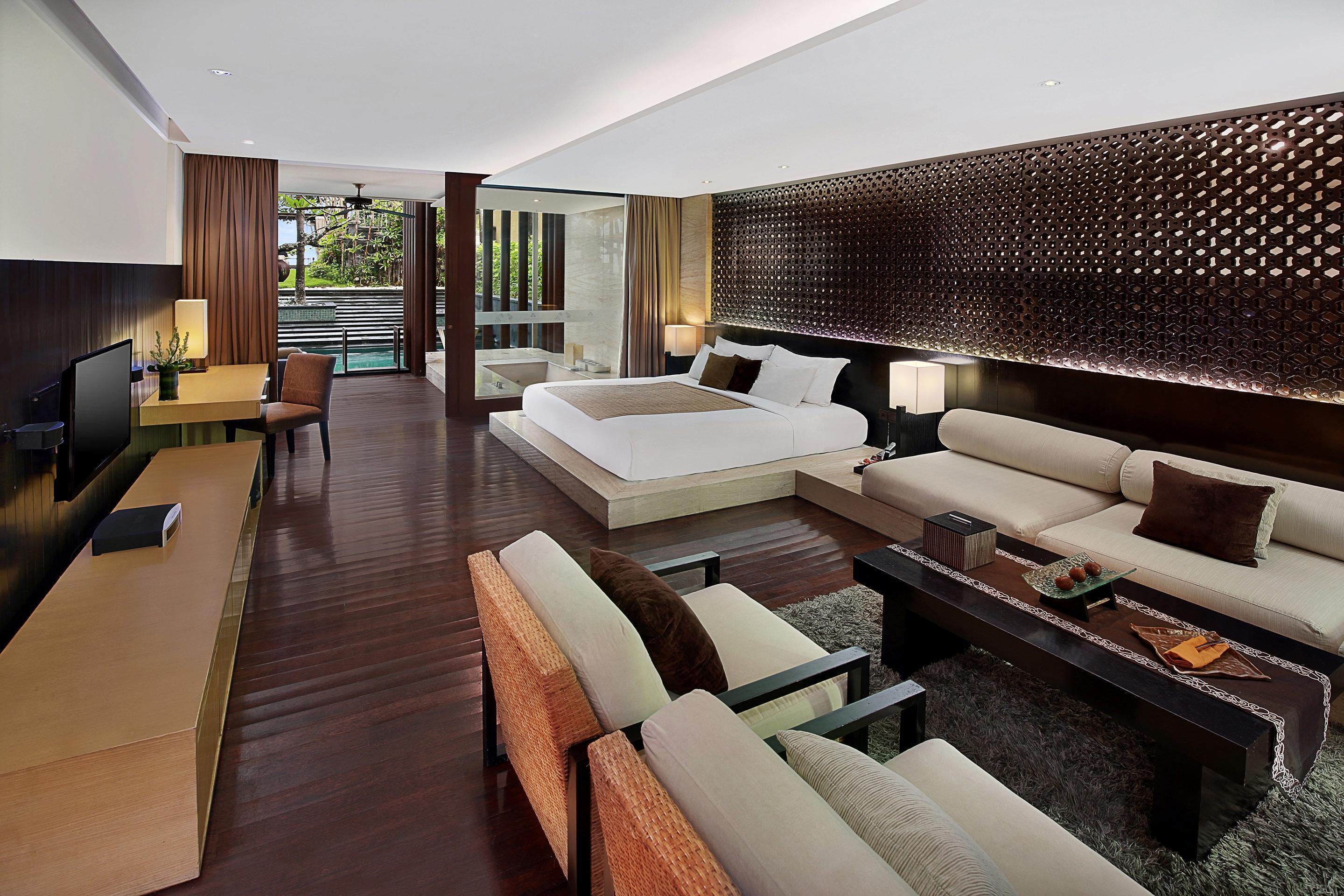 Jalan Pratama 168, Tanjung Benoa, Bali, Indonesia, 80363.
Starting Price: $108 per night
Conrad Bali is a hotel that understands the desire for a vacation that is both daring and peaceful.
Few things in life are more exciting than landing your plane and realizing you've arrived at your destination. You can't wait to see what adventures await you, but you need some downtime first.
Conrad Bali understands how you feel. The lovely sandy coastline is pure Bali, and it has all the amenities you'd expect from a luxury resort. However, it is not only about the frills. It's all about how welcoming and personal it seems. When you arrive at Conrad Bali, they meet you by name and hand serve your welcome drink while telling you all about their resort, including where to dine, drink, and shop.
It's great that it's on the Nusa Dua shoreline at Tanjung Benoa. Water sports and leisurely afternoons will be available to you.
You may also swim with dolphins or snorkel among coral reefs. If you want to experience ultimate luxury while relaxing away from work or home, here is the place to be.


Jln. Lanyahan and Br. Nagi, Ubud, Bali, Indonesia
Rates begin at $320 per night.
I've stayed in a lot of hotels, but this has to be one of the nicest. The Viceroy Bali is located on the summit of a mountain overlooking Bali's Valley of the Kings, which contains temples, shrines, and water temples going back to the eighth century. The hotel is so magnificent that it's difficult to believe it exists in real life. From the moment you enter Viceroy Bali, you are surrounded by outstanding service.
The staff is helpful and anticipates all of your needs, whether it's planning a romantic supper on the beach or packing your room with your favorite munchies. No request is too tiny, and no detail is too big. The magnificent lodgings and breathtaking views are the cherry on top. Viceroy Bali will undoubtedly exceed your expectations, whether you are searching for a quiet escape or an action-packed vacation.
With its world-class service and magnificent location, it's no surprise that this resort is popular with celebrities and luxury travelers alike. This is one of the greatest CHSE hotels in Bali, so you can expect some quality from this option. If you want to get a short, immersive taste of Bali, get aboard a helicopter and fly over the Petanu River from Viceroy's exclusive Helipad.

If you want to do something more adventurous, you can add on an excursion to see Kintamani Volcano or Bedugal Lakes. The helicopter pilots have been trained in both land and sea navigation, so they can transport you wherever you wish to go. The 40-villa hotel is small in comparison to many other luxury destinations, and it may be smaller than you're used to, but that's fine.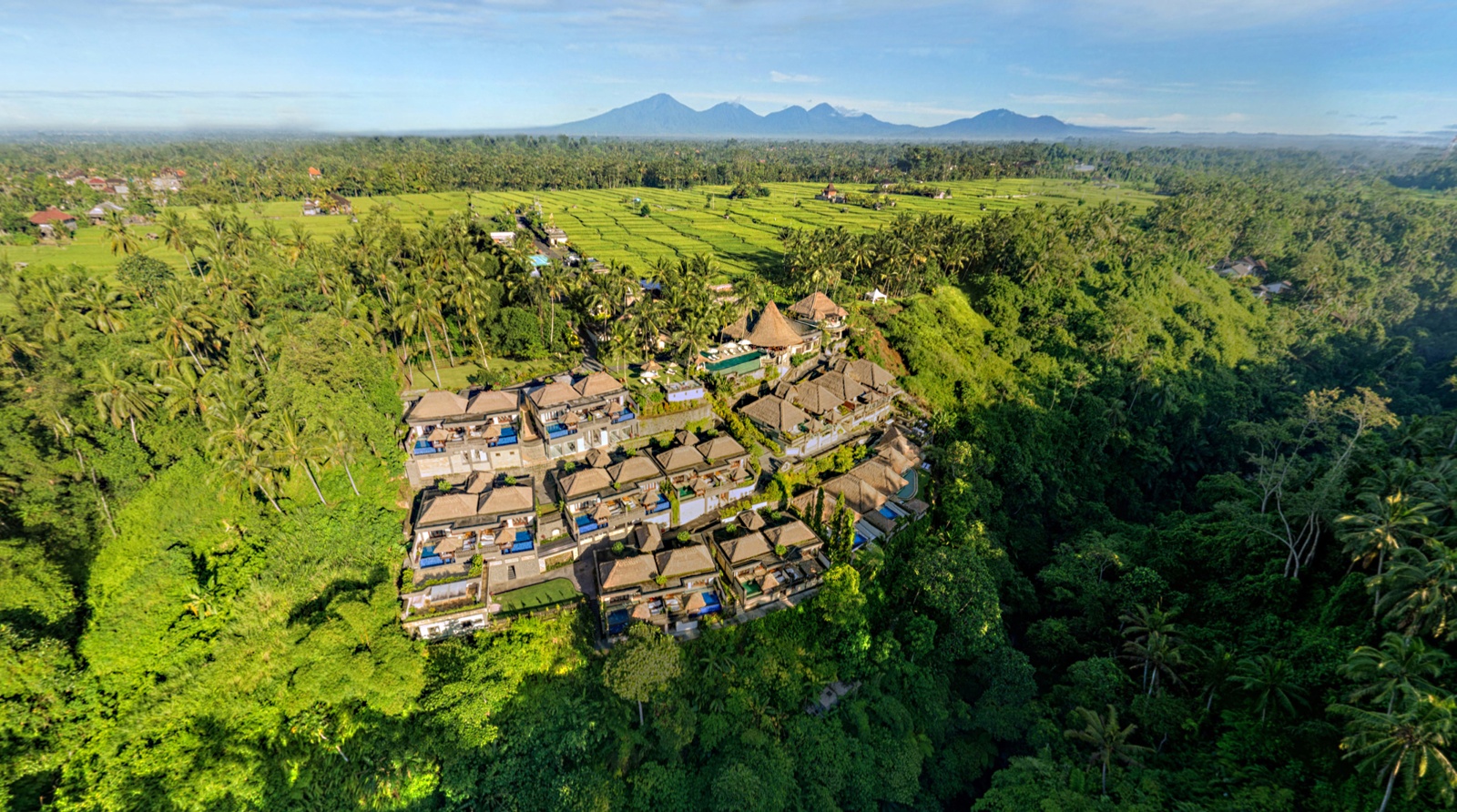 Jl. Karang Mas Sejahtera Jimbaran, 80364, Bali, Indonesia
Rates begin at $610 per night.
I was looking for a resort that could provide me with all of the comforts of home and then some when I first discovered Ayanas Villa Bali. I was seeking for a spot where I could relax while also having access to fun things to do.
This is just what I was hoping for: it's surrounded by lush gardens and cliffs overlooking the ocean, providing a complete getaway from the rush and bustle of everyday life. And yet, it's only a few feet away from Jimbaran Bay's restaurants and bars, so you can have your cake and eat it too.

When you arrive at the hotel, you'll be greeted with a luxurious bath and a glass of champagne. They seem to understand how long you've been waiting. You'll also have preferential access to the iconic Rock Bar, as well as other benefits throughout your stay.
The resort is a culinary haven. Seriously, it's like an international journey with every meal. I was overjoyed to learn that Ayana Villas served dim lunch all day. Within the resort complex, you can embark on an international culinary trip. The staff is also quite friendly. They will make you feel at ease. And if there is a problem, they are immediately there to assist in resolving it. They're always available and eager to assist.
The Ayana Resort in Bali takes it a step further with its Little Lux Benefits. They not only offer massages and yoga at sunrise, but their 18-hole golf course is designed by a professional.


Jalan Goa Lempeh, Banjar Dinas Kangin, Uluwatu, Bali, Indonesia 80364.
Starting Price: $1,258 per night
Bulgari Resort Bali is difficult to envisage as anything else than a dream. The vista from 150 meters above the ocean shore was unlike anything else I'd ever seen. You feel as if you're in a dream, but it's not. This is one of those once-in-a-lifetime events that you will never forget. You won't want to leave. And if you do leave, it will be difficult not to return.
Let us now discuss the villas: 59 of them appear to be out of your wildest expectations. They're ideal for both families and couples. They have everything, from a private pool to a private chef who cooks everything you want on the grounds.
The mansions feature the same opulent amenities as the villas. They simply take up more room. But the best part? The cuisine. Every night, they have live music in their lounge bars and Italian and Indonesian restaurants. It's where you may relax by the pool or on a rock overlooking the sea.
And, if that wasn't enough, there was an unrivaled Hindu Temple at the resort's apex that made me feel like I was in another world entirely. This establishment features modern adaptations of Balinese design that reflect a distinct Bulgari Italian flair. It's the ideal destination for sophisticated and discerning travelers looking to do something out of the usual while away from home.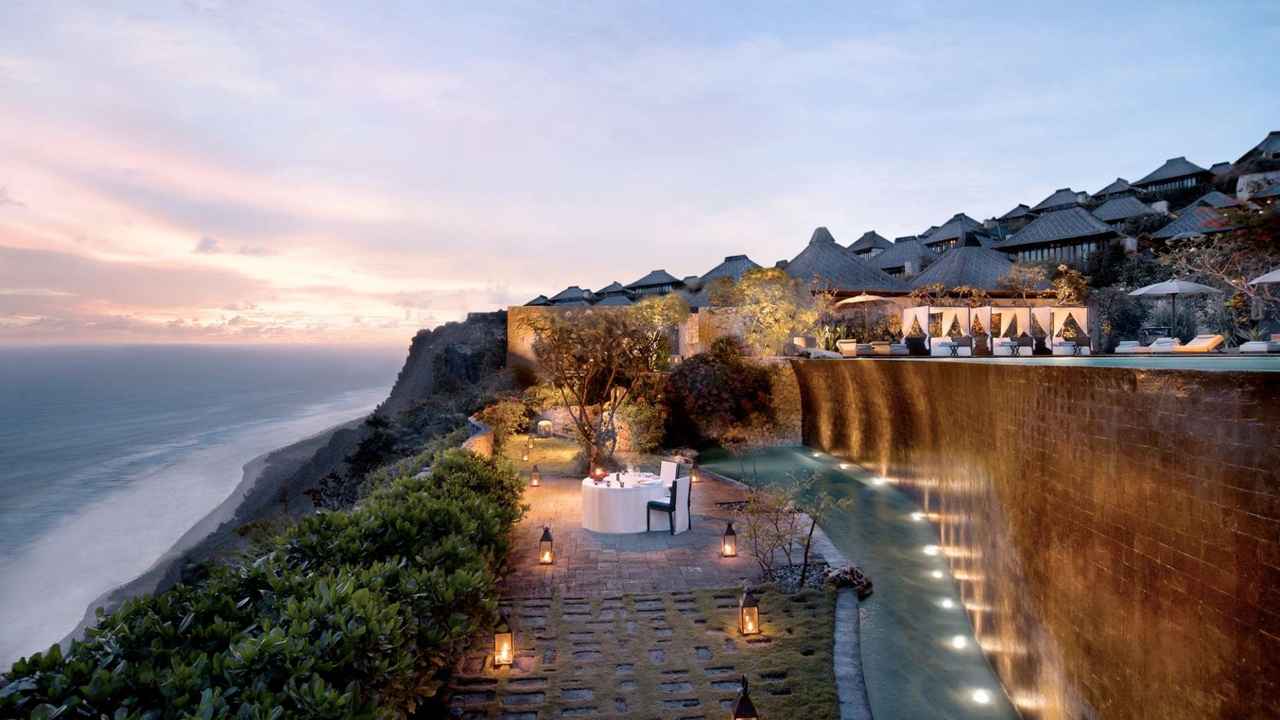 7. Four Seasons Resort Jimbaran Bay
Jimbaran Bay, Jimbaran, Kuta Selatan, Jimbaran, Kuta Sel., Kabupaten Badung, Bali, Indonesia 80361.
Starting Price: $785 per night
It's not only about the scenery when you're on vacation. It's all about the adventure.
And we're not referring to sightseeing. We're referring to the experience of visiting Bali and attempting to absorb all of its culture and beauty. This all-villa resort is located on the beachfront, ensuring that you get the most memorable beach experience among Bali's stunning beaches.
Don't forget to take shots of the Balinese temples that give a stunning backdrop to your holiday while strolling around the lush grounds surrounding this resort. It was like a dream come true the first time we saw those temples. We'd always wanted to visit Bali and view those temples for myself. They were now directly in front of me.
The best part of staying at the Four Seasons Resort Bali in Jimbaran Bay is relaxing by the infinity pool. This resort's spa will provide you with an unforgettable experience. You'll be ready to relax and unwind after a long day of exploring. The spa offers holistic treatments and aromatherapy, making you feel like you're in your own oasis.
You can have a deep-tissue massage, which is fantastic. Following that, you will be served tea in their lounge area while they give you some time to unwind.