Canggu is one of Bali's most popular destinations for surfers, backpackers, family vacations, and digital nomads, and it is now the most exciting new place in Bali, particularly for food lovers; Canggu is Bali's boho culinary center!
Canggu has everything you might desire to satisfy those hungry tummies and nagging youngsters who want to eat out. Furthermore, many restaurants and fantastic cafes serve to all budgets. You may go high-end and party the night away, or you can go low-key and eat well. Canggu has it everything for breakfast, lunch, and dinner.
Whether you choose an Indonesian, Greek, Italian, Japanese, Chinese, or Vegan meal, Canggu has so many restaurants, cafés, and street food vendors that you'll never be able to squeeze them all in on your next Canggu vacation. Learn about our favorite eateries in Canggu. Keep this handy since it's a terrific guide to help you uncover those hidden restaurant gems all the way from Berawa and Batu Bolong to Pererenan and even Seseh.
THE BEST RESTAURANTS IN CANGGU
1) Crate Cafe
Crate is a popular cafe in Canggu that serves the best salads and smoothies. Crate Cafe is open for breakfast and lunch and is always busy, with a lively ambiance. Unfortunately, you cannot reserve a table, and you must wait until someone finishes dining before you can get a table, so there may be a wait. But, once seated, it's worth it because it has a large salad and wrap menu with many healthy alternatives for individuals trying to lose weight.

Crate was one of Canggu's earliest mega-popular eateries and has since blossomed into a must-see tourist destination for lunch. The majority of diners here come fresh from the beach in boardshorts or bikinis, so be prepared to see a lot of stunning bodies. A DJ spins tunes, adding to the hip and relaxed holiday feel while you eat under the tin shed roof. Crate should be the first place you go for lunch in Canggu for the pure experience. 




Address: Jl Canggu Padang Linjong 49, Canggu, Bali

Crate Cafe

2) Da Romeo
Da Romeo is one of the top Italian restaurants in Berawa, Canggu. Freshly made pizzas, delectable pasta, and a relaxed, family-friendly atmosphere. Da Romeo is a terrific spot to bring the whole crew and enjoy delicious pizzas and cocktails without too much stress. If you choose to spend the night at the villa, they also offer amazing pizza delivery.
Consider Da Romeo for your local pizza hangouts for those large munch-out sessions without spending a fortune if you're staying in a Berawa holiday villa.
Address: Jl. Pantai Berawa, Canggu

3) Pels Supershop
Pels is located on Jl Pantai Berawa, in the heart of the Berawa/Canggu restaurant area. It's where you go to eat delicious salad and incredibly healthy vegan bowls while watching the world go by. It's as casual as you'd expect from a vegan restaurant, and it's the ideal pit stop after a day of shopping in Berawa. Pels was one of the first salad/healthy cafés in Canggu and is still going strong, with customers returning for the generous amounts and delectable food.
It is open daily until 8 p.m., however we recommend Pels for lunch. Pels is one of our favorite restaurants in Canggu!
Address: Jl. Pantai Berawa No.46, Canggu
4) The Lawn
For visitors who have visited Canggu before, the Lawn at Batu Bolong requires no introduction. The Lawn is one of the most prominent beach clubs in the area, with its front row beach location and sparkling infinity pool overlooking the ocean. Oh, did we forget to mention the food? It's all about nibbles and sharing platters of gastronomic delights while sipping cocktails and taking in the island tropical ambiance.
The Lawn is super-chilled, and all the gorgeous people from Canggu and Bali come here to tan, chat, enjoy afternoon drinks, Sunday sessions, and, of course, the wonderful food. The Lawn is a family-friendly establishment with a children's menu, so bring your friends or the whole family.We recommend Burrata Tagliatelle, Fish and Chips, and burgers for the kids.
Address: Jl Pura Dalem, Canggu, p. +62 361 6200 602 / +62 811 3800 4951. Open Mon – Thu 3pm – 10pm, Fri 12pm – 11pm, Sat and Sunday 12pm – 10pm.

5) BAKED
BAKED is one of those eateries, or should I say bakeries, where lines form all day. Why? Because the croissants, creamy poached eggs, fresh-out-of-the-oven sourdough bread, and delectable bagels are to die for. BAKED has grown in popularity to the point where there are now two locations: one in the center of Berawa and one in the future Pererenan neighborhood. Remember, you can always take these delectable bagels or banana bread back to your Canggu vacation villa for a mid-afternoon snack.
BAKED's ambiance is vibrant, young, and super-casual, making it the ideal pit stop after a morning surf session at Berawa Beach or braving the Canggu shortcut on your scooter. Prices are reasonable, and it's a perfect place to take the kids for brunch or a late-afternoon refill. Oh, and they also serve fantastic coffee!
Address: Jl. Raya Semat Gg. Kupu kupu No.1, Tibubeneng, Berawa.



6) Skool Kitchen
If you want to have an outstanding eating experience while still being in one of Bali's most hip and happening spots, Batu Bolong Beach, head to Skool Kitchen at The Lawn. The area is private and intimate, which complements the roaring waves in the background.
Expect superb five-star dining while sampling fresh, delectable cuisine, wine, and beverages. Skool Kitchen is known for its vistas, atmosphere, and the famed The Lawn (for some after partying). Expect pure, straightforward cuisine prepared with natural wood and charcoal embers.
Skool is a partnership between Tai Buddha (The Lawn, Times, Single Fin) and Adam McAsey (Bikini, Sisterfields, Bossman), so you know it will be memorable because these men have established restaurants and café institutions in Bali.
If you are staying in Seminyak, it is worthwhile to travel to Canggu for the experience, and if you are in the Canggu neighborhood, make a reservation as you will enjoy the dining experience. Skool is not a family-friendly restaurant, so visit for a romantic night out or an intimate dinner with close friends.We recommend the crispy pork belly, pickled mustard seeds and the Chocolate Martini.
Address: Jl. Pura Dalem, Canggu, p. +62 361 6200 603 / +62 811 3800 4952. Open Mon – Sat from 6pm.
7) RUKO Cafe
RUKO is one of those cafes on Jalan Pantai Berawa that has become an institution for digital nomads and salty-haired post-surf locals who enjoy the coffee, food, and, of course, people watching. Come in your boardies and snack on fluffy vanilla hotcakes or pitaya smoothie bowls with delicious dragon fruit. Consider your neighborhood Bondi cafe with all of the lovely individuals to get an impression of RUKO.
Address:  Jl. Pantai Berawa No.99, Tibubeneng, Berawa.
8) Nude
Nude is located on Jalan Pantai Berawa, one of Canggu's busiest crossroads, so you can have excellent smoothies and vegan cuisine while watching surfers running around on their scooters and people making their way to the beach. The atmosphere is open and relaxed, as digital nomads spend the day here refueling on a buttermilk and ricotta pancake. Nude is one of Berawa's most popular cafés, so stop by after shopping the stores surrounding or after your morning plunge or surf check.
Address:  Jl Raya Pantai Berawa No. 33, p. +62 85 238 214 003; Open daily 7am – 10pm.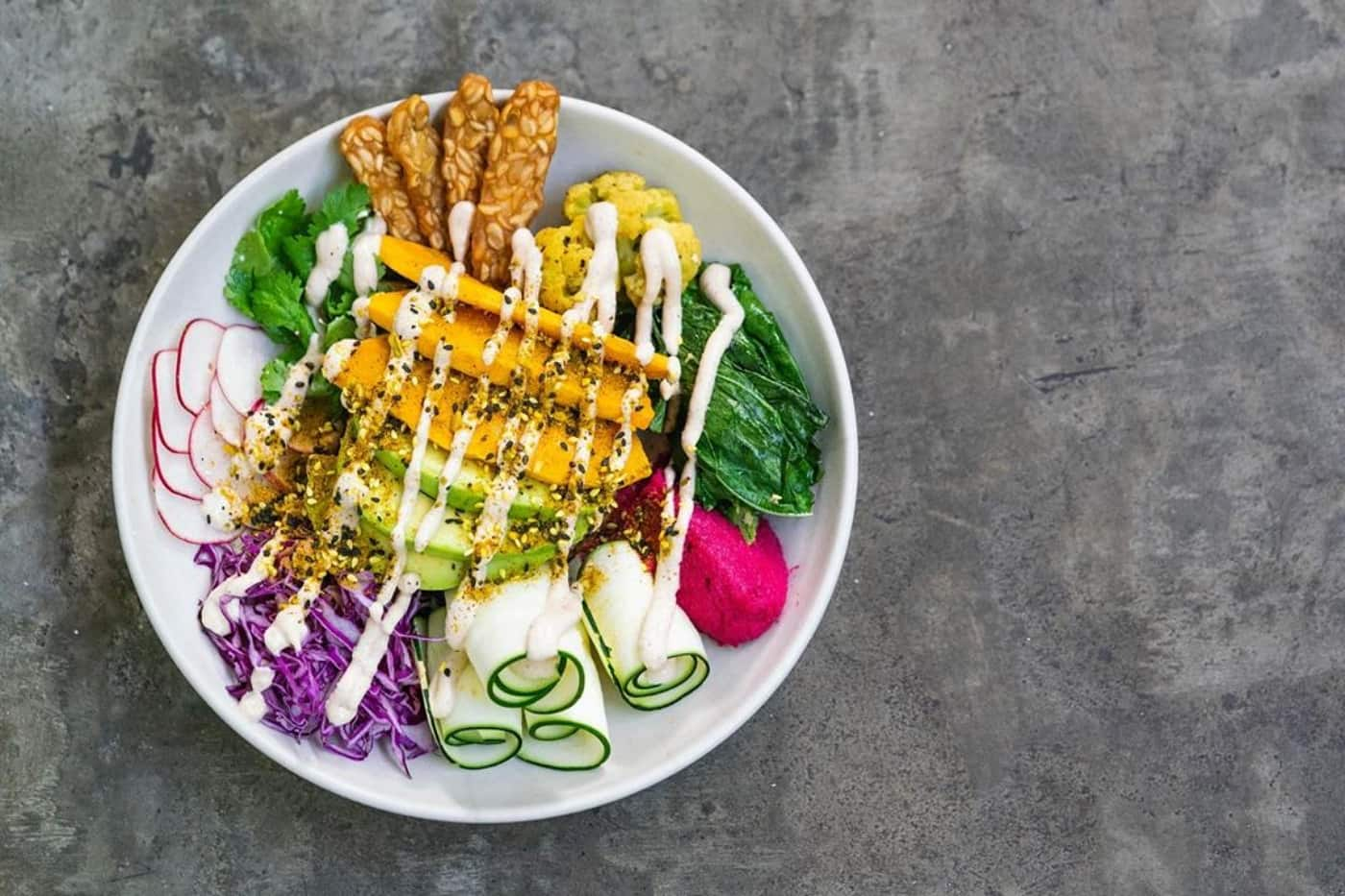 9) The Avocado Factory
Who doesn't enjoy smashed avocado on toast? I'd eat it all day, every day if I could. I can't get enough of those amazing avocados, and in Bali, The Avocado Factory in Canggu Bali is the only location to get your avo fix. It's in the Batu Bolong region on the way to Echo Beach, so it's a great place to refuel after a morning surf or walk on the beach. The Avocado Factory has done everything with the humble avocado. It's The Gu's first avocado restaurant, with a fantastic view of the ricefields and the busy road connecting Batu Bolong and Batu Mejan.
You'll be happy to hear that all of our avocados are produced locally in Bali or Java and are thick and creamy, overflowing with healthful goodness. Try sourdough toast with avo for breakfast, an avo poke bowl for lunch, and an avo good day fresh juice for dessert as a treat. Bring the kids because this is a family-friendly eatery. The entire establishment revolves around avocados, so if you adore them as much as I do, this is a must-visit on your Canggu restaurant bucket list.
Address:   Jl Batu Mejan, Canggu, p. +62 813 3738 2521, e. hello@theavocadofactory.com. Open daily 7am – 11 pm.