If you want to have fun or rest on your holiday, the Indonesian island of Bali is the correct and perfect spot for you. Fun activities, cultural temples, Balinese culture, and a breathtaking natural environment will be at your disposal!
Bali has everything from Seminyak's crowded roadways and Canggu's busy streets to Ubud's relaxing jungle town and Uluwatu's towering clifftop and white sandy beaches. The possibilities are infinite, but you may wonder where you will remain.
Worry not, as we will supply you with a variety of low-cost hotels in Bali! Yes, deciding where to stay will be difficult. Nonetheless, Bali has numerous budget-friendly hotels and hotel types, such as a villa with a variety of resort features, decent room service, amazing free food offerings, and easy access to amenities such as a swimming pool, bar, restaurants, spa treatments, and so on.
Where to Stay in Bali?
– SEMINYAK
Seminyak is one of the most famous tourist attractions in Bali, Indonesia. An eye-catching boutique resort, cafes, Bali hotels, a fitness center, and some of Bali's greatest beach clubs surround the spot. Seminyak has so many amazing things to do that it's no surprise that tourists throng here all year. Although most accommodations, villas, and hotels in Bali are pricey, there are some affordable hotels in Seminyak.

1. Tijili, Seminyak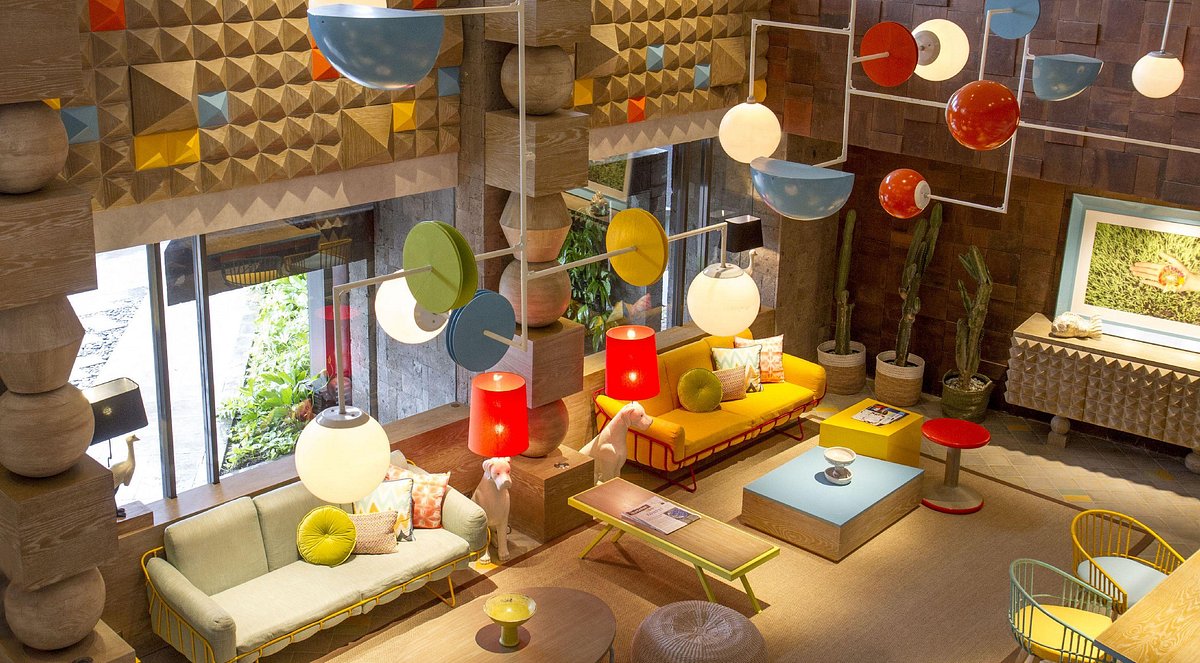 Location: Jl. Drupadi, No.9, Seminyak
Starting Rate: $59 per night
Hotel Features:
The tropical design and ambiance of the Tijili hotel provide a paradise-like environment with a perfect and unique blend of modern techniques, colors, and quirky and fashionable design to reflect the island's uniqueness. This low-cost hotel has a lively lounge, an outdoor swimming pool, a restaurant, and a bar.
Every level and kind of accommodation is colorful and features city views, as well as cable TV, minibars, free Wi-Fi, and fossilized-wood tables. These elegant yet economical hotels were only 9 minute's walk from Seminyak Beach, making the trip much more enjoyable for the tourists.
2. Uma Karan, Seminyak


Location: Jl. Bidadari III, No. 8, Seminyak
Starting Rate: $54 USD per night
Hotel Features:
Uma Karan is one of Bali's more economical hotels, accepting both leisure and business travelers. The first things you'll notice are the natural stone walls and palm trees that are nicely aligned in the pool area, as well as the wooden furniture and lounge couches.
The hotel offers wireless internet access, free Wi-Fi in all rooms, room services and different room types, wake-up service, free breakfast depending on the offers of the budget hotel in Bali you are staying at, and other amenities for room owners, as well as recreational facilities such as an outdoor pool, spa, massage, and garden. Uma Karan Hotel matches your expectations for dependable service and knowledgeable employees.

3. Brown Feather, Seminyak


Place: Jl. Batu Belig, No.100, Kerobokan
Starting Rate: $45 per night
Hotel Features:
Brown Feather's ancient cottage theme makes it a memorable stop. Brown Feather's quilted blankets, iron-wrought bed frames, and deep copper baths will transport you away from the island and back in time. This Seminyak guesthouse has 16 rooms, a pool, and a serene environment with views of rice paddy fields. This hotel also features complimentary Wi-Fi, charged breakfast, free parking, an outdoor pool, a restaurant, and laundry services per room.
– UBUD
Ubud, located in the uplands of Bali, Indonesia, is well-known for its traditional crafts, arts, and dance, and serves as a cultural centre for visitors to enjoy during their stay. The jungle and terraced rice terraces that surround Ubud District, which are densely packed with Hindu temples and shrines, are among Bali's most iconic sights. Budget hotels in Bali and villas were also accessible in Ubud, providing all visitors with a nice stay, comfortable beds, air conditioning, and positive attitudes.
1. Manyi Village, Ubud
Place: Jl. Pejeng Kawan, Ubud
Starting Rate: $55 per night
Hotel Features:
Manyi Village
, located on a working rice field, mixes modern convenience with the charm of Balinese country living. Manyi Village, with its traditional houses and Balinese landscaping overlooking beautiful rice fields, creates a peaceful, pastoral setting. The simple rooms with wood furnishings have free Wi-Fi, flat-screen TVs, minifridges, and balconies.
Suites offer living spaces, kitchenettes, and pool views. Breakfast, welcome beverages, and town center transportation are all included. There is also a spa. There is also a pool and a calm poolside restaurant, and it is 36 kilometers from Ngurah Rai International Airport.

2. Desak Putu Putera, Ubud


Location: Jalan Sukma Kesuma No.34 Tebesaya, Peliatan, Ubud, Bali
Starting Rate: $80 USD per night
Hotel Features:
Desak Putu Putera Cottages provides a variety of services and amenities to ensure that your stay is as comfortable and enjoyable as possible. Private villas, family rooms, elegant accommodations, and a private bathroom or pool are available at the hotel, which impacts the cost of your stay.
You can rent a tablet or have your luggage taken care of at the hotel reception, which is open 24 hours a day. The hotel has a lovely garden, free Wi-Fi in public areas, and tickets to local sights and entertainment.

– KUTA
You might also think about residing or seeking for a room in one of the many budget hotels or a private villa in Kuta, Bali. Kuta boasts a 2.5-kilometer-long coastline that is well-known for its surfing waves and tourist-friendly beachside activities.
Because people enjoy adventure, Kuta has a plethora of affordable hotels for travellers to stay in. Cafes and cafés surround the white-sand Kuta beach and tiny shops, making Kuta a crowded yet charming and popular tourist destination.
1. Novotel Bali Nusa Dua – Hotel & Residences


Location: Kompleks ITDC, Jl. Pantai Mengiat, Benoa, Kec. Kuta Sel., Kabupaten Badung, Bali 80363, Indonesia
Starting Rate: USD 75 per night
Hotel Features:
The Novotel Bali near Ngurah Rai Airport is one of the affordable hotels in Kuta. The Kuta hotel has a beautiful pool view, free Wi-Fi throughout the resort, and a front desk that is open 24 hours a day to assist guests.
A 1.5-kilometer walk away is the Bali National Golf Club, as well as the Pasifika Museum. Cheap hotels include free parking, a spa, open-air meals, and a juice bar. There is also a gym and a private beach club.
Key Takeaways
There are compelling reasons to visit Bali. You can spend your days relaxing on a beautiful sunset beach or swimming pool, taking in the scenery of rice fields, forests, waterfalls, and so on. Depending on your travel and itinerary, an astounding variety of activities were offered.
You don't have to be concerned about your location, such as being near the beach or having a wonderful sea view, because Bali has the best cheap hotels anywhere based on your preferences.
Bali will not let you down!