Looking for family-friendly activities in Bali? Don't worry, parents: the island is full of interesting activities and excursions for families to keep the youngsters happy and busy.
Prepare yourself, parents: DiscovaBali has produced the definitive list of interesting things to do with kids in Bali. These family-friendly activities ensure that your much-needed vacation is not ruined by nagging and bored children. Read it and thank us afterward.
Vacationing in Bali is an amazing experience, and having your children with you makes it even better. However, we are all aware that the children must be entertained and kept happy. They will not want to spend the entire day sitting by the pool and would rather go on an adventure and see some of the gorgeous sights that Bali is famous for.
The following are some fascinating and fun things to do with kids in Bali that will not bore the adults. Remember that you, too, need to take a break. You want to have a good time with the children. Don't worry about hiring a babysitter or keeping the kids entertained; simply take them to these locations and you'll have as much fun as they do. Enjoy everything Bali has to offer – a fantastic island suitable for a family trip.

Monkey Forest Ubud
This is a popular destination for families; however, the children must be at least 5 years old because there is some walking involved. However, the Monkey Forest in Ubud is a fantastic day out for the entire family. The monkeys are cheeky and are located within the temple grounds in Ubud. Keep everything safe because these little rascals will take anything they can. I know that sounds horrible and intimidating, but if you can simply accept that they are looking for everything that isn't bolted to your body, the day out here is fantastic fun. The surroundings are breathtaking, with ancient trees and fascinating Balinese temples, giving you a true sense of religion in this location.
Buy bags of peanuts and bananas from local vendors to keep the youngsters occupied while you watch the monkey go mad. It's high-quality entertainment. However, because they can bite, I would recommend hiring a local guide. It's an affordable day trip and only a 90-minute cab ride from Seminyak/Legian.
Visit Monkey Forest Ubud, Jl. Monkey Forest, Ubud, Kabupaten Gianyar. Ph +62 361 971304
Bali Safari & Marine Park
You and your children will appreciate this park with all of the wild animals, and the children will like staying up late to observe all of the animal antics at night. When night falls, you can hire a guide to take you around the park to see where all the activity is. I am confident that your children will enjoy this. There are around 60 creatures to see, including Komodo dragons, rhinos, and elephants. Be the coolest parents there and take the kids on an elephant ride.
This is a full-day trip, so bring everything you need for a full day out – there are eateries in the park, so you don't need to bring much food. It is a theme park including water slides, rides, and a variety of activities to keep both adults and children entertained.
Visit  Bali Safari & Marine Park , Jl. Bypass Prof. Dr. Ida Bagus Mantra Km. 19,8, Serongga, Kec. Gianyar Ph. +62 361 950000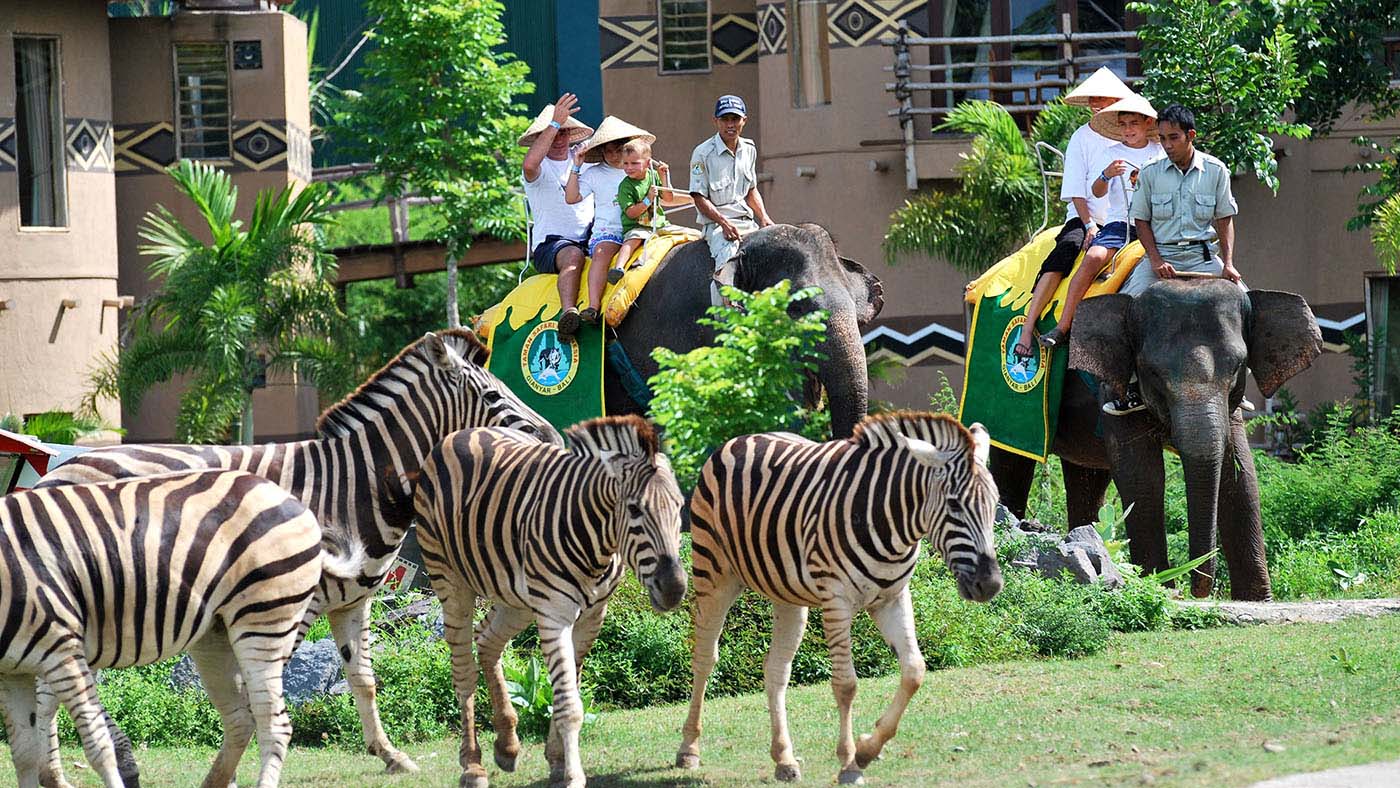 For the lovers of water! – Waterbom Bali
A visit to the Waterbom Park in Kuta is a must-do for every family visiting Bali. This is Asia's most famous and well-known water park. So, when it gets too hot and you want to cool off with the kids, go to Waterbom Park and have a good time.
This is the ideal day out for parents who have enough energy to manage the slides and keep up with the crazy kids at this place. There isn't much else to say about this venue other than go, have fun, and snap loads of Instagram and Facebook photos. Because the park is in Kuta, it is easily accessible by taxi for most families staying nearby.
Visit Waterbom Bali,  Jl. Kartika, Tuban, Kuta, Kabupaten Badung. Ph +62 361 755676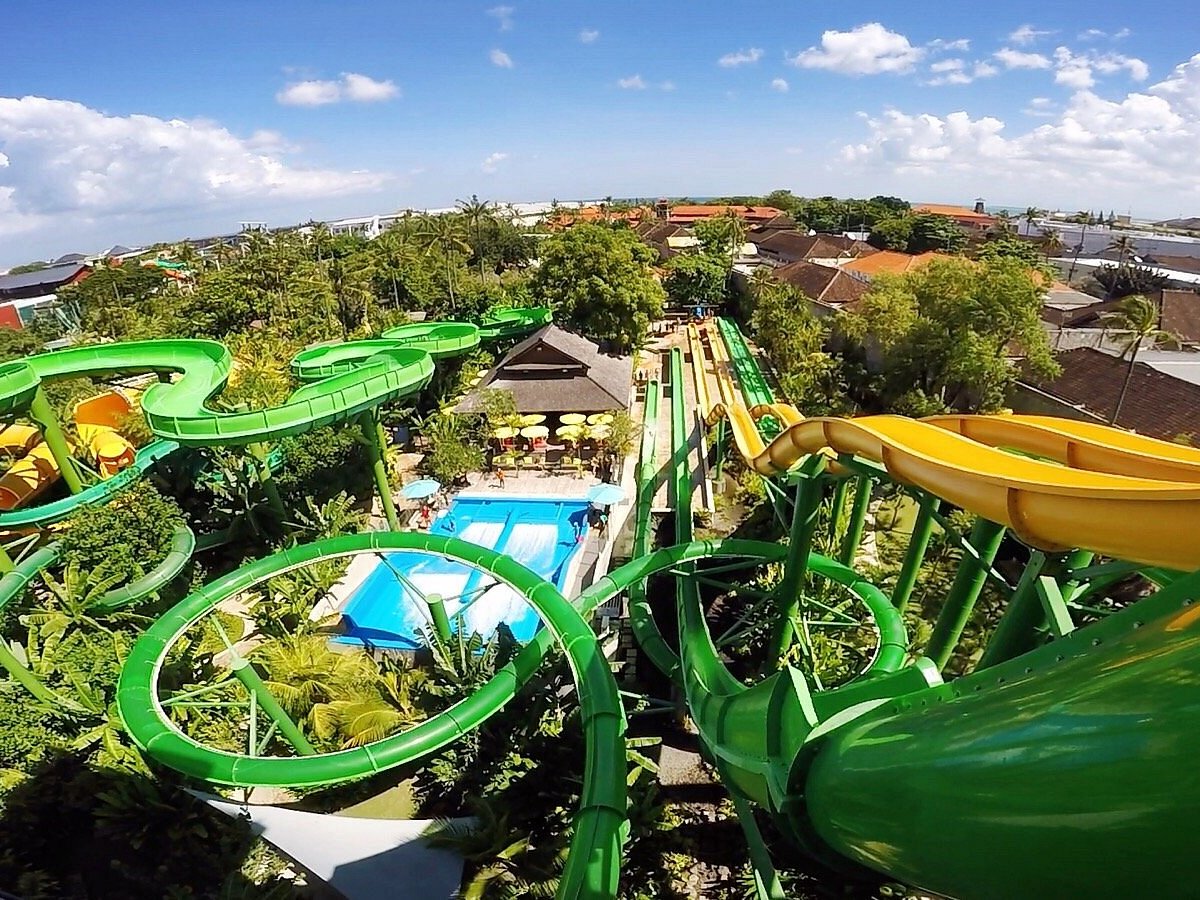 Uluwatu Cave Entrance
For a full fun day out with the kids, head to Suluban Beach in Uluwatu and walk down the cave entrance to the water. You can spend a couple of hours tanning when it's low tide, soaking up the sun while the kids play in the water. There are many places (local warungs) to eat along the pathway down, so you can spend the day here, have lunch, and buy those must-have Bali souvenirs.

Gallery Trick Art 3d
We realize this isn't as exciting or adrenaline-pumping as some other activities, but it's still a fun afternoon out with the kids where you can snap some wonderful shots and laugh at the same time.
Over 75 unbelievably realistic paintings make you feel like you're right there in the middle of everything – pose with the sharks, waterfalls, and animals – once there, both kids and adults will have a great time.
Address: Jl. Sunset Road No.789, Seminyak, Kuta, Kabupaten Badung, Bali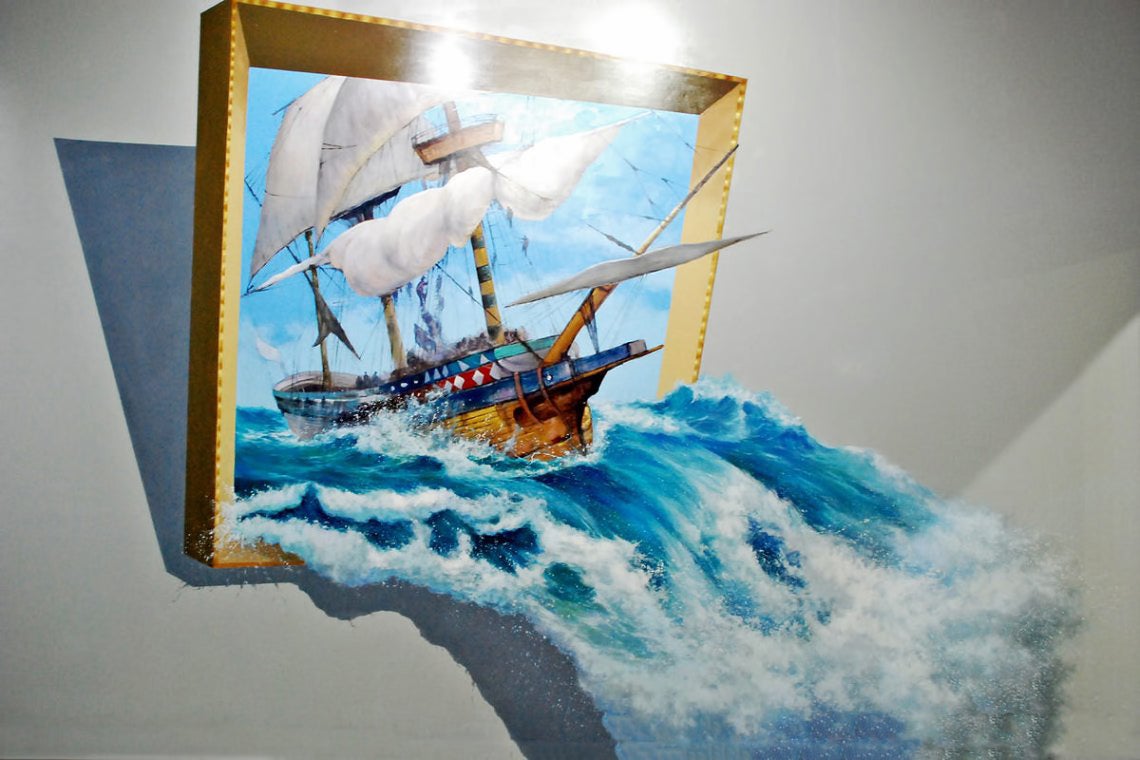 Finns Recreation Club
What was once the private Finns Recreation Club has been turned into a kiddy paradise with ridiculous activities for both kids and adults. Begin with water slides, tennis, trampolines, ten-pin bowling, and a kids cubby house. This facility is jam-packed with activities for youngsters and is only around 10 minutes away from Seminyak.
There is a day spa, swimming pool, restaurant, and bar for adults to relax while the children are cared for and enjoy great time. Consider the water slide below, then consider what your children will think of this location.
Visit Finns Recreation Club, Jalan Pantai Berawa, Canggu. Ph +62 361 8483939
The kids will go crazy over the water slides at the Finns Recreation Club in Berawa.
Parklife Canggu – the ultimate playground for the entire family
We're all crazy about Bali! The beach, the pool, the coconuts and mangoes, the kid-friendly eateries, and the never-ending fun activities If there is one item missing from your home, it may be a park where kids can run around and parents can relax. But not anymore. Even parks are no longer an option for your Bali vacation. Visit Parklife in Canggu! This new family hangout is in a peaceful neighborhood, about 10 minutes from Batu Bolong Street and surrounded by rice fields.
The views are breathtaking, there is a fantastic cafe on-site, and there are sunny meadows and shady locations where youngsters may engage in a variety of activities. Slows, swings, water fountains, jumping cushions, and a bouncy castle are all available! Face painting, storytelling, and other activities are also available. Parents can relax on beanbags while listening to the sound of children laughing.
Visit Parklife, Jl. Raya Uma Buluh No.15, Canggu. Ph +62 818-0511-3200

Shopping in Seminyak
If you are in Seminyak, make a point of visiting Seminyak Square, where you can buy all the latest surfwear from brands such as Billabong, Rip Curl, and Vissla. Pop-up market stalls sell trinkets, souvenirs, and gifts for the kids' friends back home. Bring them to Candylicious in Seminyak Village to stock up on chocolates and sugar highs to take back to the resort.
Bali Equestrian Centre – Take the kids for a pony ride
Why not take the kids horseback riding while you're on the island? Kids will enjoy snuggling, grooming, caressing, and riding the ponies at Bali Equestrian Centre, which is located in Canggu. This family sanctuary also boasts a playground, restaurant, and a pool where you can relax in between hugging and pony rides. The surrounds are very lovely, and you can go horseback riding on the beach or in the rice fields. Children as young as three years old are welcome to join in the fun.

Visit Bali Equestrian Centre, Perumahan Canggu Asri Jl. Karang Suwung, Brawa, Canggu. Ph +62 361 8446541
Made's Warung
At Mades Warung in Seminyak, you can watch a Balinese dancing performance and taste traditional Balinese food. Made's Warung on Jalan Raya Seminyak is more than simply a restaurant; it's also a wonderful spot where something extraordinary happens every evening during supper. Musical music, stunning Balinese dancers, and colorful traditional costumes are a must-see during your Bali vacation. The meal is really wonderful and authentically Indonesian!

Visit Mades Warung Seminyak, Jl. Raya Seminyak, Seminyak. Ph +62 361 732130
Read More: The Sila's Agrotourism – Outdoor Outboun Tourism Activity Safe and Comfortable – Located in a Green Open Area with Spectacular Natural Views. Only 1 Hour Drive From Denpasar.