Nyaman Art Gallery Seminyak: A Haven for Art Enthusiasts
Nyaman Art Gallery in Seminyak, Bali is a contemporary art space dedicated to showcasing works of art from both emerging and established Indonesian artists. Founded by a French couple, Stephan and Luca, in 2013, the gallery has become a haven for art enthusiasts seeking a unique and engaging art experience. 
The gallery is located on Jalan Basangkasa in the heart of Seminyak, a bustling tourist area known for its trendy cafes, restaurants, and boutique shops. It is conveniently situated within walking distance of some of Bali's most popular beaches and resorts.
Upon entering the gallery, visitors are immediately struck by the stylish, minimalist interior, designed to complement the artworks on display. The space is well-lit and spacious, with white walls and high ceilings that provide the perfect backdrop for the artwork.
Nyaman Art Gallery showcases a diverse range of contemporary art, including paintings, sculptures, installations, and mixed media pieces. The artworks are thoughtfully curated and rotate frequently, ensuring that there is always something new and exciting to see.
One of the standout features of Nyaman Art Gallery is its focus on promoting Indonesian art and artists. The gallery has a strong commitment to supporting local artists, and many of the works on display are by talented up-and-coming Indonesian artists.
The gallery also features works by established Indonesian artists, such as Ida Bagus Putu Purwa, whose vibrant and colorful paintings depict traditional Balinese culture and mythology. Another notable artist whose work is on display at Nyaman Art Gallery is Ivan Sagita, whose abstract paintings and sculptures explore the intersection of nature and technology.
In addition to promoting Indonesian artists, Nyaman Art Gallery also features works by international artists, providing a platform for cultural exchange and dialogue. The gallery has hosted exhibitions by artists from all over the world, including France, the United States, and Japan.
The gallery's exhibitions and events are designed to engage visitors and foster a deeper appreciation for contemporary art. The gallery hosts regular artist talks and workshops, providing opportunities for visitors to learn about the artistic process and interact with the artists themselves.
Nyaman Art Gallery also offers art consultation services for those interested in building their own art collection. The gallery's experienced team can provide advice and guidance on everything from selecting the right artwork to framing and installation.
In addition to its exhibitions and events, Nyaman Art Gallery also has an online store where visitors can purchase artwork by their favorite artists. The online store features a wide selection of artworks, from affordable prints to one-of-a-kind pieces, making it easy for art enthusiasts to start or expand their own collection.
Overall, Nyaman Art Gallery is a must-visit destination for anyone interested in contemporary art. Its commitment to promoting Indonesian artists, engaging visitors, and fostering cultural exchange make it a truly unique and valuable addition to Bali's art scene.


Opening Hours and Entrance Cost
The gallery is open daily from 9:00 a.m. to 9:00 p.m., so you can visit whenever it is convenient for you.

You may explore the world of art and creativity at Nyaman Gallery whenever you want, whether you're an early riser or a night owl.
Because of the gallery's long hours, you can schedule your visit around other events on your itinerary, ensuring you don't miss out on this amazing cultural experience.

Good news for art enthusiasts on a tight budget. There is no admission cost to visit the Nyaman Gallery in Bali. You can go through the gallery halls and take in the splendor of the artwork for free. If you fall in love with a piece and want to take it home with you, keep in mind that the price of the artwork on exhibit varies according to the artist and item. 
But don't worry; the courteous team at Nyaman Gallery is always happy to answer any queries you have concerning price and shipping arrangements.
The gallery exhibits historical art forms as well as pieces by skilled craftsmen and women that represent their passion and mastery. 
Explore Southeast Asian art and marvel at stunning works such as Sumatran embroidered tapestries, Balinese coin sculptures, and Sumbanese buffalo horns. Nyaman Gallery features edgy furniture among old art items, seamlessly blending traditional art with modern home décor. 
Don't just take my word for it; go to Nyaman Gallery and see for yourself the wonders of traditional art.

Graffiti Inspired by Goddesses
Quint's graffiti work combines the beauty of monochromatic women with amusing movements. His work, inspired by the goddess Venus, gives an unmistakable message of love and joy.
Textures, T-Shirts, and Other Items
Get your hands filthy with YOKII's experimentation with various textures and materials, including a one-of-a-kind collection of T-shirts. Each T-shirt is handcrafted by the artist, and you'll adore the one-of-a-kind style they provide.
Photography and Culture
The images of Yoga Raharja accurately capture the essence of traditional religious ceremonies and cultural events in Java and Bali. You'll be astounded by how well his painting captures the spirit of Southeast Asia.

Tintype Prints for Collectors of One-of-a-Kind Art

Stephan Kotas specializes in striking limited-edition tintype prints, a unique type of photo printing that uses a thin sheet of metal. His work, which is only available at Nyaman Gallery, is likely to impress any art collector.
Fusion of Art and Fashion
Mersuka Dopazo and Teresa Calderon, a fashion designer, collaborate to produce amazing large-scale collages. These one-of-a-kind pieces of art, painted on fabrics developed by Teresa, investigate the equilibrium between positive and negative space.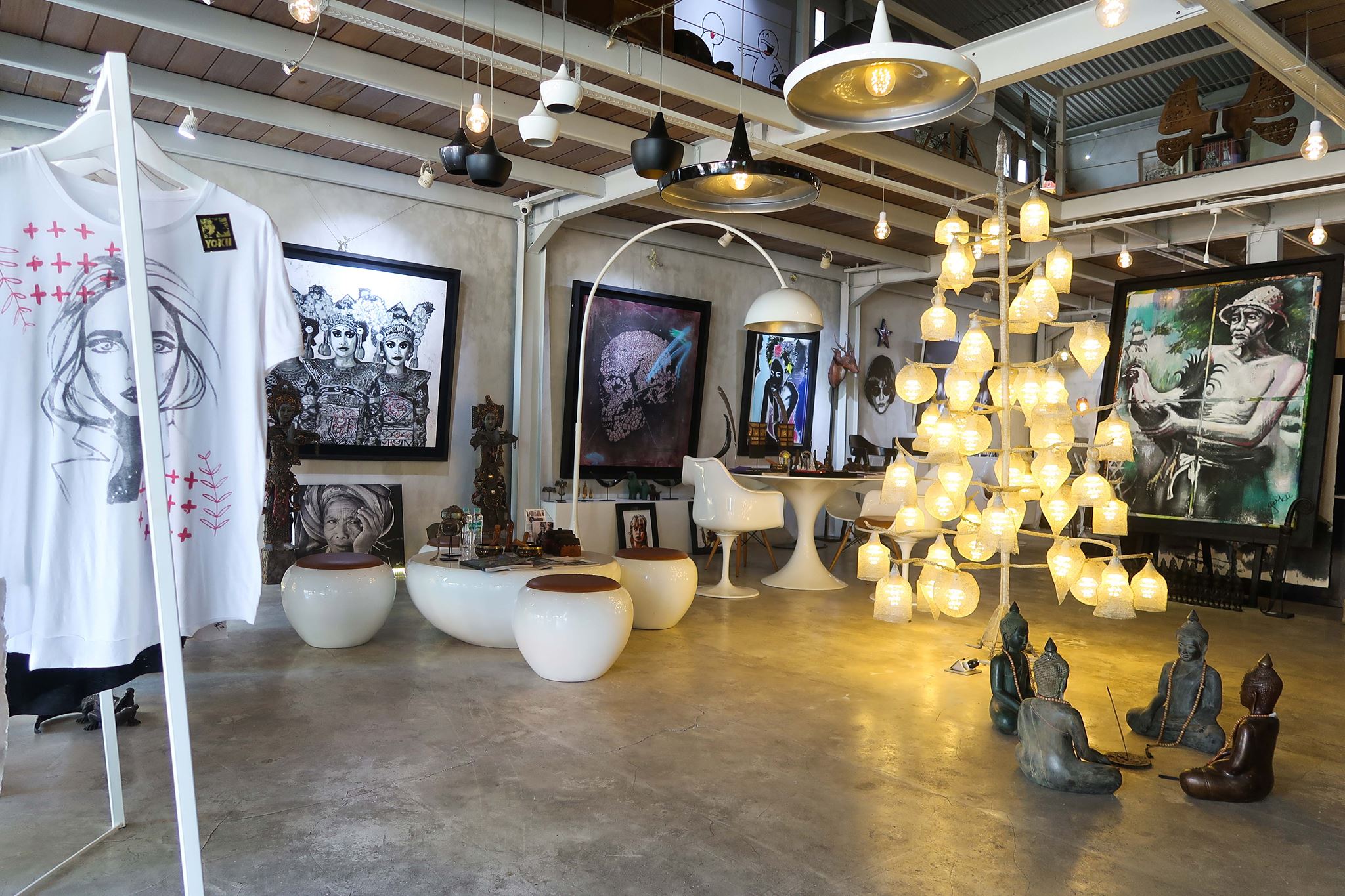 Creating Art and Memories at Nyaman Art Gallery
This intimate art facility hosts a variety of fun and educational programs given by talented artists and professors who are eager to share their knowledge and techniques. 

You are welcome to participate and take home your artwork as well as the amazing experience of making art with inspired people from all around the world. We had the privilege of participating in one of the seminars, and the experience was simply unforgettable. The art space's warm ambiance made it feel like a home away from home, and the classes' intimate size allowed for customized instruction and attention. I left with a lovely piece of art and new friends.
In addition to the weekly courses, Nyaman Artspace allows you to hire the space for private events.